Blasterparts - Modification Set for X-Shot Orbit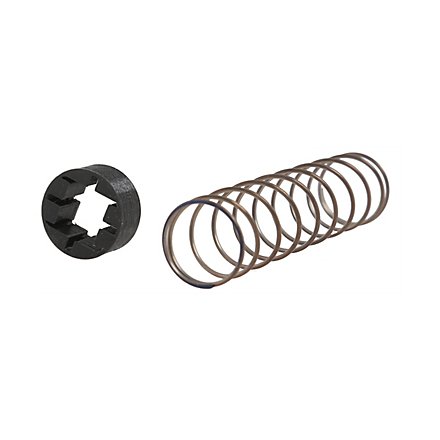 This tuning spring will extend your X-Shot Orbit's range significantly.
Equivalent mass of the spring: approx. 8kg
Increases range and muzzle velocity
Difficulty of installation: Easy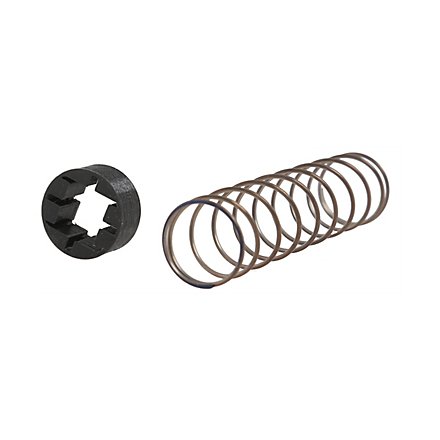 Product Information
Instructions for Tuning
Our tuning springs come with detailed instructions explaining how to install the spring into the Blaster step by step. The degree of difficulty given is a guideline. Difficult installations should rather be made by experienced tuners. The easy ones can also be done by beginners.
Special spacer
The 3D printed spacer is placed directly behind the cylinder head (plunger head). To do this, first loosen the screw that connects the cylinder head with the rod (plungerrod) and remove the old spring. Then you put the new spring over the rod, slide the 3D-part over it (fits only in one direction) and finally you screw the cylinder head back to the rod. Afterwards you can put the whole thing back into the Blaster.
Product details
560999
Blasterparts
Blasterparts
Tuning Spring, Spacer, Instructions
14 Years and older. Warning: This product is not a toy. This produkt is neither affilitaed, nor endorsed or produced by the manufacturer, importer or distributor of named blaster toy. Modifying your blaster in any way happens at own risk and may cause higher wear to certain parts.
More from Blasterparts
Blasterparts
Precision Flywheels
14,95 €
Blasterparts
Modification Spring for Dartblaster Longshot CS-6
8,95 €
Blasterparts
Modification Spring for Dartblaster Disruptor
8,95 €
-7%
Blasterparts
Banana-Clip for 15 Darts
12,95 €
13,95 €
Blasterparts
Modification Kit Full Metal for Dartblaster Hammershot
18,95 €
Blasterparts
Tuning-Motor-Set for Nerf-Blasters
17,95 €
Blasterparts
Modding Kit MP5, black
19,95 €
Blasterparts
Modification Spring for Dartblaster AccuStrike AlphaHawk
8,95 €
Blasterparts
Modification Spring for Dartblaster AccuStrike RaptorStrike
8,95 €
Blasterparts
12 Dart Banana Magazine, black
9,95 €
-10%
Blasterparts
Multiholster MX black
from 17,95 €
19,95 €
Blasterparts
Modification Spring for Dartblaster Strongarm
8,95 €
Blasterparts
Multiholster SX black
19,95 €
Blasterparts
Catch-Spring for Nerf-Dartblaster
2,95 €
Blasterparts
SMG stock for Nerf mounts, black
9,95 €
Blasterparts
Modification Spring for Dartblaster Sledgefire
8,95 €
Blasterparts
Heavy Modder Pack: 6 Precision Flywheels
28,95 €
Blasterparts
Modification Kit Hard Range for Dartblaster Retaliator
16,95 €
Blasterparts
Modification Spring for Dartblaster SurgeFire
8,95 €
Blasterparts
Powershell for Dartblaster Sledgefire
24,95 €
back to top