NERF - N-Strike Elite Modulus Blast Shield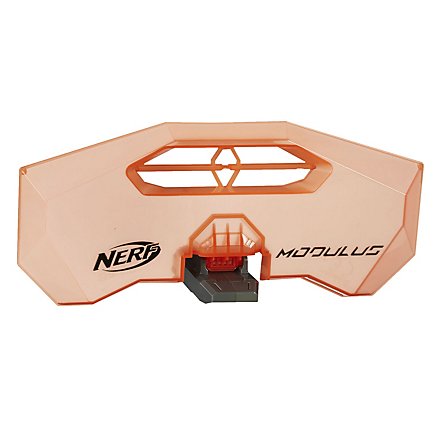 A mobile cover for your next Office War.
The shield of the Nerf Modulus Kit now available separately
Can be flipped up when required
Transparent plastic and viewing slot maintain a clear view
With integrated targeting aid in the viewing window
Fits all Nerf blasters with upper accessory rail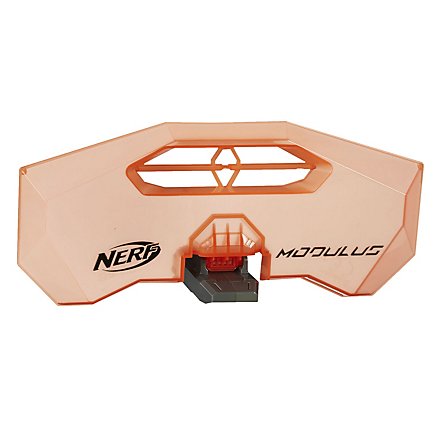 Product Information
If you have to find cover, a blaster shield is nice to have
This shield is originally from the Nerf Strike Modulus & Defend Kit, but is now also available separately. Anyone who is concerned with his safety in the next Office War, should equip his blaster with this shield.
Compatible with all blasters with Tactical Rail
The shield is simply sled over the accessory rail of a blaster until the nose locks into place. That means the shield requires a Tactical Rail rail on the top. We recommend not to use it on blasters, where the Tactical Rail is placed on a sled (such as when Retaliator or Recon MKII), because the blaster may get more cumbersome to handle.
On electric blasters as the Modulus ECS-10, the Stryfe or Rapidstrike, the shield is ideal. Mounted on a rail it is firmly connected to the Blaster, which is a distinct advantage over file folders in an office battle.
If necessary, the shield can be folded away. The transparent orange plastic and the viewing slot ensure that the field of view is affected as little as possible. Because in tight office spaces, the overview is already restricted enough!
The plain packaging is good for the environment and the Accounting Department
Hasbro has done without colorful printed cardboard and plastic cups in the packaging of the shield: it comes in a plain brown cardboard box. The quality of the content however is not affected. This type of packaging is more environmentally friendly and cost-effective, which is sure to the delight of the Accounting Department.
Product details
560236
NERF N-Strike Elite Modulus
PVC
Hasbro

Nerf N-Strike Elite XD Modulus shield
Attention! Not suitable for children age 3 or younger. Attention! Do not aim at eyes or face.
To avoid injury: Only use original darts. Other darts may not meet safety standards. Do not modify darts or dart blaster. Shot distances are estimates and are based on test data. Actual blaster results will vary and depend on the condition of the darts and other factors.
More from NERF N-Strike Elite Modulus
back to top