NERF - N-Strike Elite Modulus Barrel Extension Recon MKII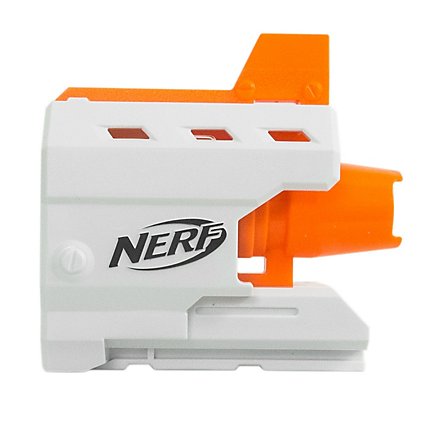 The Recon MKII barrel extension looks good on other blasters, too!
The barrel extension of the Nerf Recon Modulus MKII
Gives blasters a visually beautiful finish
Compatible with all Nerf blasters with barrel attachment point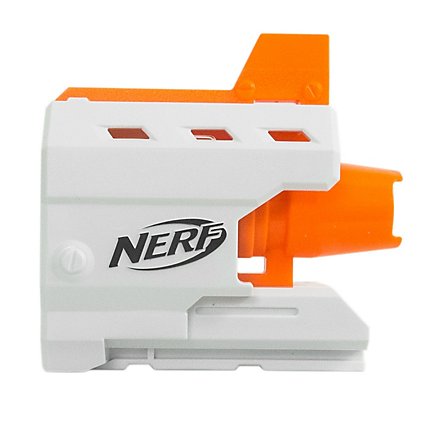 Product Information
The Recon MKII barrel extension offers even more possibilities
This barrel extension, which is normally only available together with the Recon MKII, is now available individually here. So if you only need the barrel, you can grab it here.
Chic and compact Nerf accessory
The barrel of the Recon MKII can be attached to all dart blasters that have an appropriate barrel attachment point. It affects the range significantly less than, for example, the Retaliator barrel extension, but still gives blasters a nice visual finish. The short size makes sure small blasters like the Stryfe keep that special compact look.
This is the version with functional Tactical Rail, so that you can mount foregrips and other attachments.
A plain packaging protects the environment and wallet
Hasbro has dispensed to use plastic sheets and colorful printing in the packaging of the Recon MKII barrel. This type of packaging is not only environment-friendly, but also cheaper, which is reflected directly in the price!
Product details
560237
NERF N-Strike Elite Modulus
Hasbro
Nerf N-Strike Elite XD Modulus barrel extension for Recon MKII
Warning: Not suitable for children under the age of three. Warning: Do not aim at eyes or face. To avoid injury: Only use original darts. Other darts may not meet safety standards. Do not modify darts or dart blaster.
More from NERF N-Strike Elite Modulus
NERF N-Strike Elite Modulus
Distance Scope matching for Modulus
12,95 €
NERF N-Strike Elite Modulus
Banana Clip 10 Darts
11,95 €
NERF N-Strike Elite Modulus
Flip Clip Kit for Modulus
19,95 €
NERF N-Strike Elite Modulus
Red Dot matching for Modulus
14,95 €
NERF N-Strike Elite Modulus
6 Darts Clips
9,95 €
NERF N-Strike Elite Modulus
Barrel extension Dartblaster
19,95 €
NERF N-Strike Elite Modulus
Dual-Rail Barrel Extension
8,95 €
NERF N-Strike Elite Modulus
Stealth Kit for Modulus
24,95 €
NERF N-Strike Elite Modulus
Folding Bi-Pod
9,95 €
NERF N-Strike Elite Modulus
Shoulder stock with art storage
14,95 €
NERF N-Strike Elite Modulus
Long Range Barrel Extension
8,95 €
NERF N-Strike Elite Modulus
Barrel Extension Silencer
8,95 €
NERF N-Strike Elite Modulus
2-in-1 Dartblaster and Shoulder Stock
11,95 €
NERF N-Strike Elite Modulus
Dartblaster Shield
8,95 €
NERF N-Strike Elite Modulus
Barrel Extension Chrono Barrel
29,95 €
NERF N-Strike Elite Modulus
Long Range Kit for Modulus
24,95 €
NERF N-Strike Elite Modulus
Barrel extension Mega-Dartblaster
14,95 €
NERF N-Strike Elite Modulus
Dartblaster Recon MKII
39,95 €
NERF N-Strike Elite Modulus
Dartblaster Recon MKII Basis-Blaster
18,95 €
NERF N-Strike Elite Modulus
Tactile Foregrip
8,95 €
back to top