NERF - N-Strike Elite Modulus Barrel Extension Silencer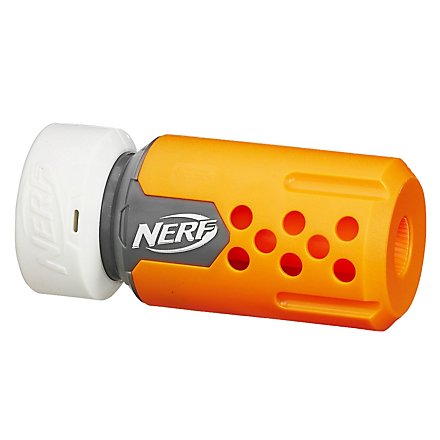 Great piece to close the shape of small blasters: the silencer of the Stealth Kit.
An original silencer of the Modulus Stealth Kit
Gives blasters a beautiful visual finish
Length: approx 11.5cm
Fits all Nerf blasters with adapter for barrel extensions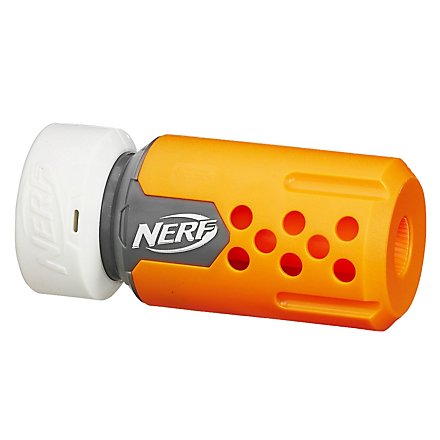 Product Information
The barrel extension from the Nerf Modulus Stealth Kit now available individually
This barrel extension is normally available only in the Nerf Modulus Stealth Kit. But those who need only on this silencer, can get it here individually. So everyone can choose the accessories that he really needs.
Nerf barrel extension for the special stealth look
The barrel extension in the silencer design fits all blasters with a barrel attachment point. The barrel covers the attachment point well and so provides an aesthetically pleasing finish - because the adapter point disturbs some blaster purists. At the same time it is short enough to reduce the range hardly. As a tip: The silencer looks particularly good on the Retaliator or Rapidstrike.
Inconspicuous Box - Same Content
The silencer is packaged in a plain cardboard box. Through this type of packaging Hasbro not only protects the environment, it is also less expensive than ornate colorful boxes. The quality of the content itself is not affected, of course.
Product details
560241
NERF N-Strike Elite Modulus
PVC
Hasbro

Nerf N-Strike Elite XD Modulus barrel extension silencer
Attention! Not suitable for children age 3 or younger. Attention! Do not aim at eyes or face.
To avoid injury: Only use original darts. Other darts may not meet safety standards. Do not modify darts or dart blaster. Shot distances are estimates and are based on test data. Actual blaster results will vary and depend on the condition of the darts and other factors.
More from NERF N-Strike Elite Modulus
back to top