NERF - N-Strike Elite Modulus Tactical Light in Sustainable Packaging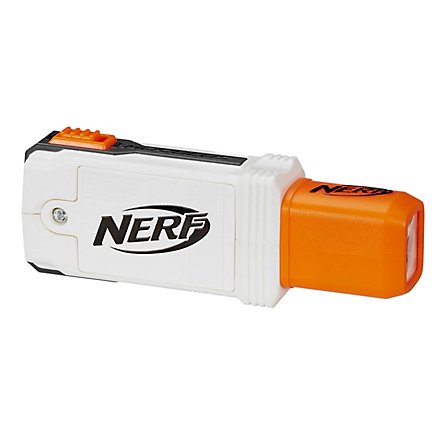 Tactical illumination for missions in the dark.
A single Modulus accessories for even more combinations
Perfectly equipped for missions in the dark
Fits all Nerf blaster with accessory rail
Three 1.5V AAA batteries required (not included)
Recommended for ages 8 years up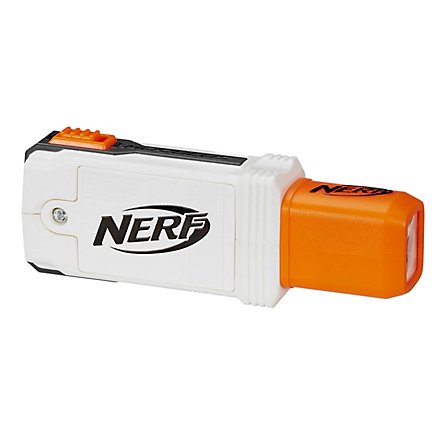 Product Information
The well-appreciated Nerf Tactical Light is back
Since the Nerf N-Strike Recon CS-6 was discontinued, we all deeply missed the cool accessory that came with it – the flashlight for the Nerf Rail. Now it's back, sold singularly in an environmentally friendly package. Once attached to the Nerf Rail of your blaster it doesn't only change and individualize its appearance, it also adds tactical possibilities.
There will be light
When it gets late or you mission leads into a dark basement, you be the hero. With the Nerf N-Strike Modulus XD Tactical Light you'll shed light on everything in front of your barrel. The light will fit on every Nerf Tactical Rail offering new tactical options. Three 1,5V AAA Batteries (not included) are required for operation.
Good for the environment and your wallet: the sustainable packaging
Instead of in a colourful cardboard box, the Tactical Light is packaged in a sustainable brown box. This type of packaging is more environmentally friendly and cheaper. This is why this version is cheaper than the version with the standard packaging.
Product details
560238
NERF N-Strike Elite Modulus
Hasbro
Nerf N-Strike Elite XD Modulus flashlight
3 1,5V AAA batteries required (not included)
Warning: Not suitable for children under the age of three. Warning: Do not aim at eyes or face. To avoid injury: Only use original darts. Other darts may not meet safety standards. Do not modify darts or dart blaster.
More from NERF N-Strike Elite Modulus
NERF N-Strike Elite Modulus
Distance Scope matching for Modulus
11,95 €
NERF N-Strike Elite Modulus
Banana Clip 10 Darts
11,95 €
NERF N-Strike Elite Modulus
Red Dot matching for Modulus
14,95 €
NERF N-Strike Elite Modulus
Barrel extension Dartblaster
19,95 €
-20%
NERF N-Strike Elite Modulus
6 Darts Clips
7,95 €
9,95 €
NERF N-Strike Elite Modulus
Dual-Rail Barrel Extension
8,95 €
-25%
NERF N-Strike Elite Modulus
Flip Clip Kit for Modulus
14,95 €
19,95 €
NERF N-Strike Elite Modulus
Shoulder stock with art storage
11,95 €
-20%
NERF N-Strike Elite Modulus
Flip Clip Kit for Modulus
19,95 €
24,95 €
NERF N-Strike Elite Modulus
Folding Bi-Pod
9,95 €
NERF N-Strike Elite Modulus
Stealth Kit for Modulus
19,95 €
NERF N-Strike Elite Modulus
Long Range Barrel Extension
8,95 €
NERF N-Strike Elite Modulus
Barrel Extension Silencer
8,95 €
-33%
NERF N-Strike Elite Modulus
2-in-1 Dartblaster and Shoulder Stock
7,95 €
11,95 €
-11%
NERF N-Strike Elite Modulus
Dartblaster Shield
7,95 €
8,95 €
-33%
NERF N-Strike Elite Modulus
Barrel extension Mega-Dartblaster
9,95 €
14,95 €
NERF N-Strike Elite Modulus
Dartblaster Modulus ECS-10
79,95 €
-20%
NERF N-Strike Elite Modulus
Barrel Extension Recon MK II
7,95 €
9,95 €
NERF N-Strike Elite Modulus
Long Range Kit for Modulus
24,95 €
NERF N-Strike Elite Modulus
Dartblaster Modulus Mediator
29,95 €
back to top