Tek Recon Double Hammer Head Pack: Hammer Head Battlepack & 4x Hammer Head Refill Pack & 10x Ammo 25er Pack NRG-Rounds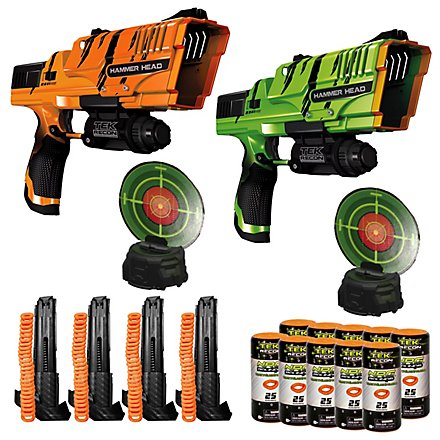 This Double pack provides twice as much fun!
Complete Set
Includes: 2x Tek Recon hammer Head Blaster, 4x Refill Magazines, and 10x NRG Ammo Pack
Total 375x NRG Rubber Bullets
Flies Extra Fast & Accurate
Ammunition Reusable
Unbeatable Value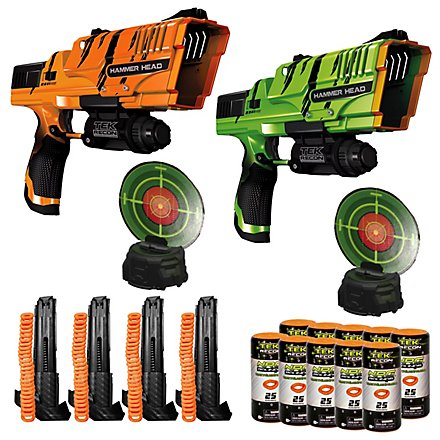 Product Information
For two players or one on each hand
This set includes the extensive Hamer Head Battle Pack with 2 blasters, 4x refill magazines, and 10x NRG Ammo Pack. In total, that's375x NRG rubber rounds. So very very very much ammo.
The rubber bullets from Tek Recon provide an enormous amount of fun. Due to the unique shape, the bullets fly very quickly & accurately.
The extensive Tek Recon - package, is not only particularly inexpensive but is well suited for all who want to bring some variety in the usual Nerf Blaster world.
Product details
143026
Tek Recon
Single-Action
green

1x Tek Recon - Hammer Head Battle Pack, 4x Tek Recon - Hammer Head Refill Pack, 10x Tek Recon - Ammo 25-Pack NRG-Rounds
Attention! Not suitable for children age 3 or younger. Attention! Do not aim at eyes or face.
To avoid injury: Only use original darts. Other darts may not meet safety standards. Do not modify darts or dart blaster. Shot distances are estimates and are based on test data. Actual blaster results will vary and depend on the condition of the darts and other factors.
back to top