BuzzBee - Ultra-Tek 20 Dart-Refill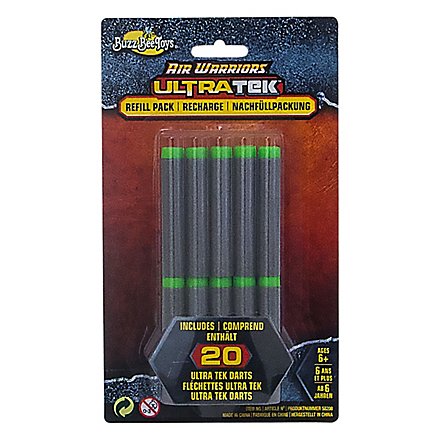 20 grey-green foam darts in a refill pack!
Grey foam dart with green head
Compatible with BuzzBee magazine blaster
Compatible with Nerf blaster and magazine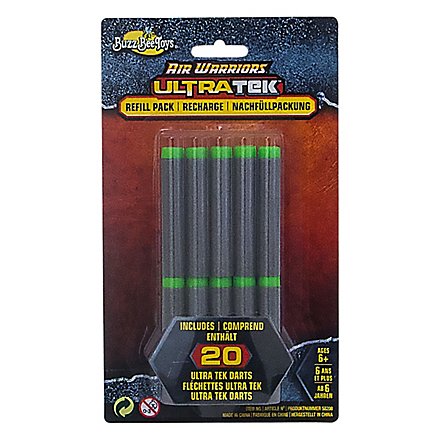 Product Information
Ammo refill for all foam blasters
Other darts may fly farther, these fly more accurate! Heavier tips provide stability in flight. This makes these darts perfect for target practise and aiming at targets farther away becomes much more fun.
Darts compatible with Nerf blasters
Not only the powerful BuzzBee blasters benefit from this, also blasters of other brands do because these darts are fully compatible with blasters of other manufacturers.
Product details
560332
BuzzBee Air Warriors
Dart Ammo
BuzzBee
Warning: Not suitable for children under the age of three. Warning: Do not aim at eyes or face. To avoid injury: Only use original darts. Other darts may not meet safety standards. Do not modify darts or dart blaster.
More from BuzzBee Air Warriors
BuzzBee Air Warriors
Dartblaster Master Tek
26,95 €
BuzzBee Air Warriors
Dartblaster Tek 8
12,95 €
BuzzBee Air Warriors
Refill Pack 24 Darts Air Warrios Long Distance
11,95 €
-68%
BuzzBee Air Warriors
Refill Pack 16 Suction Darts
0,95 €
2,95 €
NEW
Air Warriors Long Distance
BuzzBee - Air Warriors Long Distance 50 Dart Refill Pack
5,95 €
14,95 €
NEW
BuzzBee Air Warriors
Dartblaster Power Mech with drum
19,95 €
32,95 €
-43%
BuzzBee Air Warriors
Dartblaster Sidewinder
15,95 €
27,95 €
BuzzBee Air Warriors
Air Warriors Eradicator
24,95 €
-43%
Air Warriors Precise Pro
Air Warriors PrecisePro Thermal Hunter
22,95 €
39,95 €
Air Warriors Precise Pro
Air Warriors PrecisePro Stryker Force
14,99 €
-33%
BuzzBee Air Warriors
Dartblaster Auto Tek
19,95 €
29,95 €
-39%
The Walking Dead
Carls Revolver BuzzBee
7,95 €
12,95 €
NEW
Air Warriors Precise Pro
Dartblaster Mutator with magazines and different darts
19,95 €
39,95 €
back to top