NERF - N-Strike Elite Modulus Targeting Light Beam in Sustainable Packaging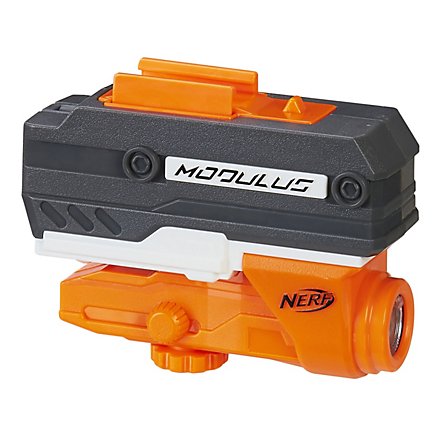 Green light for precise aiming.
A single Nerf accessory from the Modulus Range for even more combination possibilities
A green light point for aiming
Fits all Nerf blaster with accessory rail
Three 1.5V AAA batteries required (not included)
Recommended for ages 8 years and up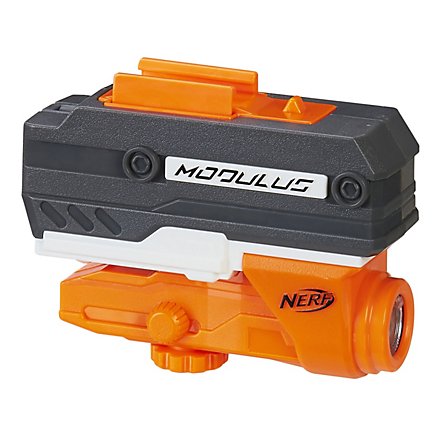 Product Information
Aiming done right
The Nerf N-Strike Elite XD Modulus Targeting Light Beam is another piece of equipment to add some tactical versatility to a Nerf blaster. When the green light spot shows where your blaster is pointing, aiming from the hip is a valid option.
Fits on every Nerf with a Tactical Rail
The Nerf N-Strike Elite XD Modulus Targeting Light Beam can be attached on any Nerf rail. Of course it makes most sense to mount it somewhere at the barrel. Thanks to an adjustable lens the green dot of light can be slightly adjusted to compensate deviations.
The sustainable Box is good for the environment and your wallet
The Targeting Light Beam comes in a simple package. By omitting plastic covers and colourful packaging, this box is not only more environmentally friendly, it is also cheaper which is reflected in the price.
Product details
560239
NERF N-Strike Elite Modulus
Hasbro
Nerf N-Strike Elite XD Modulus target beam
Required 3 1,5V AAA batteries (not included)
More from NERF N-Strike Elite Modulus
-17%
NERF N-Strike Elite Modulus
Distance Scope matching for Modulus
9,95 €
11,95 €
NERF N-Strike Elite Modulus
Banana Clip 10 Darts
11,95 €
NERF N-Strike Elite Modulus
Dartblaster Flashlight
9,95 €
NERF N-Strike Elite Modulus
Red Dot matching for Modulus
14,95 €
-38%
NERF N-Strike Elite Modulus
Dartblaster Regulator
49,95 €
79,95 €
NERF N-Strike Elite Modulus
Dual-Rail Barrel Extension
8,95 €
NERF N-Strike Elite Modulus
Long Range Kit for Modulus
17,95 €
NERF N-Strike Elite Modulus
Barrel extension Dartblaster
19,95 €
NERF N-Strike Elite Modulus
6 Darts Clips
9,95 €
NERF N-Strike Elite Modulus
Shoulder stock with art storage
11,95 €
NERF N-Strike Elite Modulus
Stealth Kit for Modulus
19,95 €
NERF N-Strike Elite Modulus
Flip Clip Kit for Modulus
19,95 €
-20%
NERF N-Strike Elite Modulus
Flip Clip Kit for Modulus
19,95 €
24,95 €
NERF N-Strike Elite Modulus
2-in-1 Dartblaster and Shoulder Stock
11,95 €
NERF N-Strike Elite Modulus
Folding Bi-Pod
9,95 €
NERF N-Strike Elite Modulus
Long Range Barrel Extension
8,95 €
NERF N-Strike Elite Modulus
Barrel Extension Silencer
8,95 €
-20%
NERF N-Strike Elite Modulus
Stealth Kit for Modulus
19,95 €
24,95 €
NERF N-Strike Elite Modulus
Barrel extension Mega-Dartblaster
14,95 €
NERF N-Strike Elite Modulus
Dartblaster Shield
8,95 €
back to top