NERF - N-Strike Elite Modulus Shoulder Stock of the Recon MKII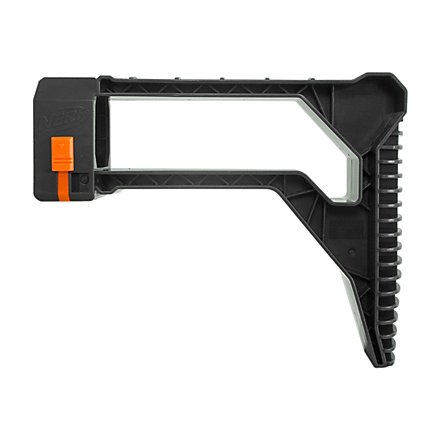 This shoulder stock fits compact blasters best.
More ways to customize your own Blaster: The Recon MKII Shoulder support in a single package
Neutral dark gray looks good on almost all blasters
Provides a secure grip and comfortable handling
Length: approx. 18cm
Fits all Nerf blasters with stock attachment point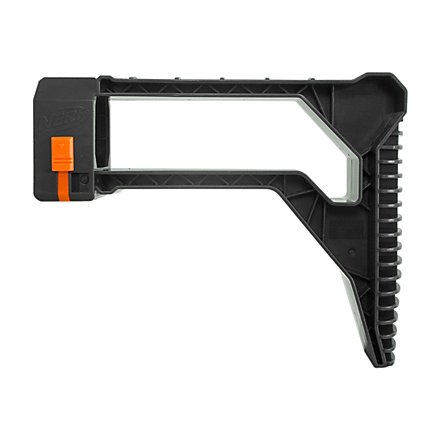 Product Information
Makes every Nerf blaster more individual
Now many Nerf accessories are available separately from us. Even parts that are normally only available with a blaster, such as the barrel extension of the Recon MKII and the corresponding shoulder rest, we can offer separately now. So each Blasterfan can choose the accessories he needs for his blaster.
Looks especially good on compact blasters: The Recon MKII shoulder rest
This shoulder rest is one of the sturdiest in the Nerf assortment: nothing wobbles, you can lean into it vigorously without fear that it breaks.
The curvature and the ribs at the end provide a stable and comfortable fit at the shoulder. The gray color makes the shoulder stock is neutral enough to look good on all blasters, no matter if they are blue, orange or white.
At just 18cm, it is not the longest stock, but due to this, compact blasters as the Stryfe remain agile and easy to handle.
Content Is King
Although an elaborate packaging promotes a product, too, at the end of the day the content is what counts. And the quality of the buttstock is not changed by a plain brown cardboard packaging. The simple packaging protects the environment and is cheaper - a cost advantage, which is also noticeable in the price.
Product details
560240
NERF N-Strike Elite Modulus
Hasbro
Nerf N-Strike Elite XD Modulus shoulder rest for Recon MKII
More from NERF N-Strike Elite Modulus
-17%
NERF N-Strike Elite Modulus
Distance Scope matching for Modulus
9,95 €
11,95 €
NERF N-Strike Elite Modulus
Targeting Light Beam for Modulus
9,95 €
NERF N-Strike Elite Modulus
Banana Clip 10 Darts
11,95 €
NERF N-Strike Elite Modulus
Dartblaster Flashlight
9,95 €
NERF N-Strike Elite Modulus
Red Dot matching for Modulus
14,95 €
NERF N-Strike Elite Modulus
Barrel extension Dartblaster
19,95 €
NERF N-Strike Elite Modulus
6 Darts Clips
9,95 €
NERF N-Strike Elite Modulus
Stealth Kit for Modulus
19,95 €
NERF N-Strike Elite Modulus
Long Range Kit for Modulus
17,95 €
NERF N-Strike Elite Modulus
Flip Clip Kit for Modulus
19,95 €
NERF N-Strike Elite Modulus
Dual-Rail Barrel Extension
8,95 €
NERF N-Strike Elite Modulus
Shoulder stock with art storage
11,95 €
-20%
NERF N-Strike Elite Modulus
Flip Clip Kit for Modulus
19,95 €
24,95 €
NERF N-Strike Elite Modulus
Folding Bi-Pod
9,95 €
NERF N-Strike Elite Modulus
Barrel Extension Silencer
8,95 €
NERF N-Strike Elite Modulus
Dartblaster Shield
8,95 €
NERF N-Strike Elite Modulus
Long Range Barrel Extension
8,95 €
NERF N-Strike Elite Modulus
2-in-1 Dartblaster and Shoulder Stock
11,95 €
NERF N-Strike Elite Modulus
Barrel extension Mega-Dartblaster
14,95 €
NERF N-Strike Elite Modulus
Dartblaster Modulus ECS-10
79,95 €
back to top