NERF - N-Strike Elite Modulus Red Dot Sight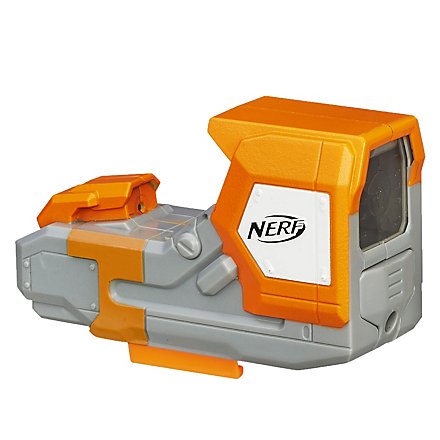 The sight that's got a point: The Nerf Red Dot Sight helps improve your aim.
A single Modulus accessory in recycling box
Tactical upgrade for Nerf blasters
The Red Dot sight projects a red dot for aiming at an integrated window
Two 1.5V AAA batteries required (not included)
Fits all Nerf blasters with an accessory rail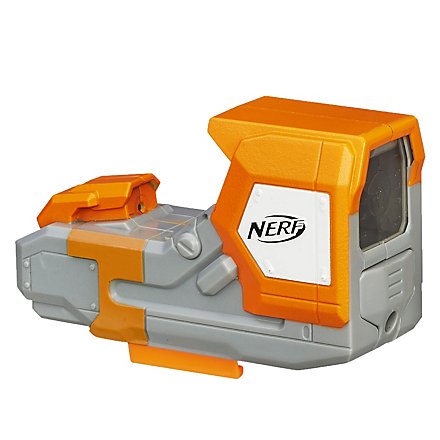 Product Information
The "Pinpoint Sight" finally available seperately
The Nerf Modulus Red Dot Sight is a remake of an older accessory, called Pinpoint Sight. Because it was hard to get, it became a popular collector's item soon. The joy was great, when the Pinpoint Sight became available in the Nerf Modulus Stealth Kit.
Now we offer something that will bring even more joy: the Red Dot Sight is now available separately from us. Those who want only this accessory and can do without handle and barrel extension of the Stealth Kit can get the popular sight here!
Aiming has got a point
The Red Dot Sight is compatible with all Nerf blasters that have an accessory rail. It fits very well on smaller blasters as the Fire Strike or Strongarm, but makes a good shape for big blasters as well. The sight requires 1.5V AAA batteries (not included). To insert the batteries, you need a Phillips screwdriver. When the sight is turned on, an LED projects a red light spot on the built-in plate, on which one can aim at its target.
Unlike riflescopes, you can keep both eyes open, so that the field of view is not restricted.
Gentle to the environment and the wallet: The recycling box
The Nerf Red Dot Sight comes in an environmentally friendly recycling box. The simple packaging of course contains the same quality as in the elaborate boxes, but all plastic covers and colorful printed cardboards of the original packaging was omitted. This not only protects the environment but also your wallet, because this way we can offer the Red Dot cheaper.
Product details
560231
NERF N-Strike Elite Modulus
Hasbro
Nerf N-Strike Elite XD Modulus Red Dot sight
2 1,5V AAA-batteries required (not included)
Warning: Not suitable for children under the age of three. Warning: Do not aim at eyes or face. To avoid injury: Only use original darts. Other darts may not meet safety standards. Do not modify darts or dart blaster.
More from NERF N-Strike Elite Modulus
NERF N-Strike Elite Modulus
Distance Scope matching for Modulus
11,95 €
NERF N-Strike Elite Modulus
Banana Clip 10 Darts
11,95 €
NERF N-Strike Elite Modulus
Dartblaster Flashlight
11,95 €
NERF N-Strike Elite Modulus
Barrel extension Dartblaster
19,95 €
-20%
NERF N-Strike Elite Modulus
6 Darts Clips
7,95 €
9,95 €
NERF N-Strike Elite Modulus
Dual-Rail Barrel Extension
8,95 €
-25%
NERF N-Strike Elite Modulus
Flip Clip Kit for Modulus
14,95 €
19,95 €
NERF N-Strike Elite Modulus
Shoulder stock with art storage
11,95 €
-20%
NERF N-Strike Elite Modulus
Flip Clip Kit for Modulus
19,95 €
24,95 €
NERF N-Strike Elite Modulus
Folding Bi-Pod
9,95 €
NERF N-Strike Elite Modulus
Stealth Kit for Modulus
19,95 €
NERF N-Strike Elite Modulus
Long Range Barrel Extension
8,95 €
NERF N-Strike Elite Modulus
Barrel Extension Silencer
8,95 €
-33%
NERF N-Strike Elite Modulus
2-in-1 Dartblaster and Shoulder Stock
7,95 €
11,95 €
-11%
NERF N-Strike Elite Modulus
Dartblaster Shield
7,95 €
8,95 €
-33%
NERF N-Strike Elite Modulus
Barrel extension Mega-Dartblaster
9,95 €
14,95 €
NERF N-Strike Elite Modulus
Dartblaster Modulus ECS-10
79,95 €
-20%
NERF N-Strike Elite Modulus
Barrel Extension Recon MK II
7,95 €
9,95 €
NERF N-Strike Elite Modulus
Long Range Kit for Modulus
24,95 €
NERF N-Strike Elite Modulus
Dartblaster Modulus Mediator
29,95 €
back to top