NERF - N-Strike Elite Modulus Long Range Barrel Extension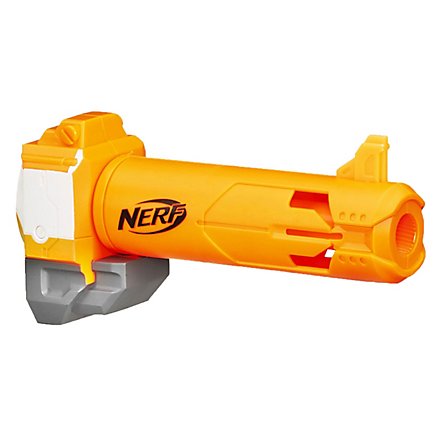 More accessories, more possibilites: the Long Range Barrel Extension allows even more combinations.
The barrel extension from the Nerf Modulus Range Kit
A single accessory for even more combination possibilities
Length: 18cm
Fits all Nerf blasters with barrel extension adapter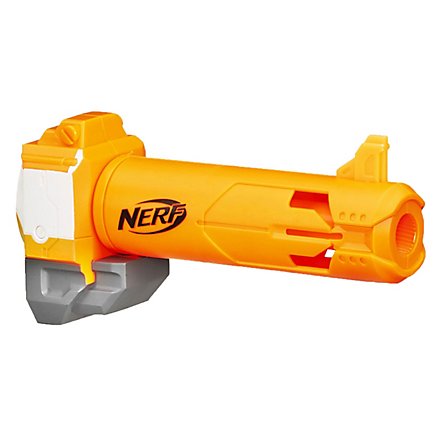 Product Information
Now even more individual
With the Nerf accessories separately available blaster fans can customize their blaster even more individually. The barrel extension from the Nerf Modulus Range Kit is a nice piece for many blasters.
Compatible with all blasters with barrel attachment point
The Nerf Modulus barrel extension is compatible with all blasters that have the needed adapter. It's a good aesthetic completion and due to its relatively short length of about 18cm, the range is not compromised as much as with the barrel extension of the Retaliator.
If the Mega Dart launcher of the Nerf Modulus Tri-Strike is replaced with this barrel extension, the Tri-Strike gets a significantly sleeker appearance. That's why fans of bolt-action blasters should look at this barrel extension.
Protects the environment and your wallet: the simple packaging
Although a nice packaging may make the purchase more fun, it is crucial what is in the package. Therefore, the single Modulus accessories is packaged by Hasbro in simple cardboard boxes. Abandoning an elaborate packaging is not only good for the environment but also for your wallet, because the lower packaging costs are also reflected in the price.
Product details
560233
NERF N-Strike Elite Modulus
Hasbro
Nerf N-Strike Elite XD Modulus barrel range extension
Warning: Not suitable for children under the age of three. Warning: Do not aim at eyes or face. To avoid injury: Only use original darts. Other darts may not meet safety standards. Do not modify darts or dart blaster.
More from NERF N-Strike Elite Modulus
NERF N-Strike Elite Modulus
Distance Scope matching for Modulus
11,95 €
NERF N-Strike Elite Modulus
Banana Clip 10 Darts
11,95 €
NERF N-Strike Elite Modulus
Red Dot matching for Modulus
14,95 €
NERF N-Strike Elite Modulus
Shoulder Stock matching Dartblaster Mediator
24,95 €
NERF N-Strike Elite Modulus
6 Darts Clips
9,95 €
NERF N-Strike Elite Modulus
Barrel extension Dartblaster
19,95 €
NERF N-Strike Elite Modulus
Dual-Rail Barrel Extension
8,95 €
NERF N-Strike Elite Modulus
Flip Clip Kit for Modulus
19,95 €
NERF N-Strike Elite Modulus
Shoulder stock with art storage
11,95 €
-20%
NERF N-Strike Elite Modulus
Flip Clip Kit for Modulus
19,95 €
24,95 €
NERF N-Strike Elite Modulus
Stealth Kit for Modulus
19,95 €
NERF N-Strike Elite Modulus
Folding Bi-Pod
9,95 €
NERF N-Strike Elite Modulus
2-in-1 Dartblaster and Shoulder Stock
11,95 €
NERF N-Strike Elite Modulus
Barrel Extension Silencer
8,95 €
NERF N-Strike Elite Modulus
Dartblaster Shield
8,95 €
NERF N-Strike Elite Modulus
Barrel extension Mega-Dartblaster
14,95 €
NERF N-Strike Elite Modulus
Dartblaster Modulus ECS-10
79,95 €
NERF N-Strike Elite Modulus
Barrel Extension Recon MK II
9,95 €
NERF N-Strike Elite Modulus
Dartblaster Modulus Mediator
29,95 €
NERF N-Strike Elite Modulus
Long Range Kit for Modulus
24,95 €
back to top