NERF - N-Strike Elite Modulus Folding Grip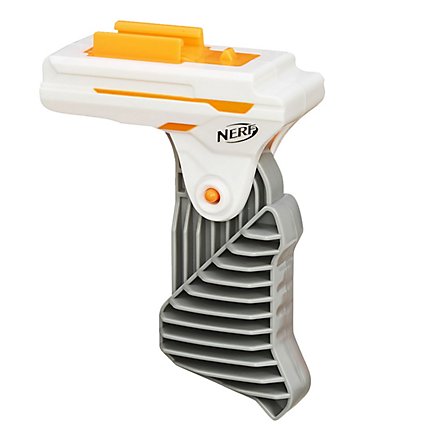 Tactile Foregrip as an upgrade for your blasters.
Fore Grip from the Nerf Modulus series
Can be folded away for more compact size
Fits all Nerf Blaster with a lower accessory rail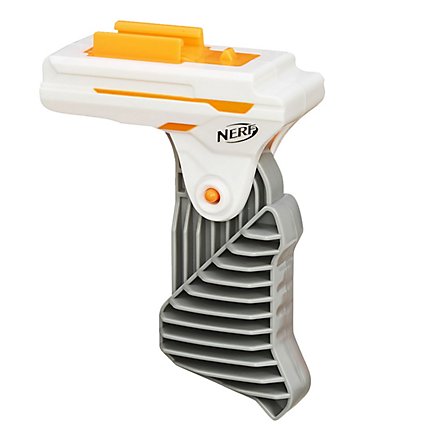 Product Information
Nerf accessories for the Tactical Rail
The foregrip from the Nerf Modulus Stealth kit is now also available separately from us. So everybody can choose the accessories that he really needs.
A push of a button releases the lock so that it can be used both ways and collapsed. It is compatible not only with the modulus-blasters, but with all the Blaster that have a "Tactical Rail" at the appropriate place.
Inconspicuous box - same content
The Folding Grip will be shipped in an environment-friendly box. But the quality of the content stays the same, of course. The handle is as stable and painted the same as in the complete Stealth Kit.
Product details
560234
NERF N-Strike Elite Modulus
Hasbro
Nerf N-Strike Elite XD Modulus foldable front handle
Warning: Not suitable for children under the age of three. Warning: Do not aim at eyes or face. To avoid injury: Only use original darts. Other darts may not meet safety standards. Do not modify darts or dart blaster.
More from NERF N-Strike Elite Modulus
NERF N-Strike Elite Modulus
Banana Clip 10 Darts
11,95 €
NERF N-Strike Elite Modulus
Flip Clip Kit for Modulus
19,95 €
NERF N-Strike Elite Modulus
6 Darts Clips
9,95 €
NERF N-Strike Elite Modulus
Barrel extension Dartblaster
19,95 €
NERF N-Strike Elite Modulus
Dual-Rail Barrel Extension
8,95 €
NERF N-Strike Elite Modulus
Folding Bi-Pod
9,95 €
NERF N-Strike Elite Modulus
Shoulder stock with art storage
14,95 €
NERF N-Strike Elite Modulus
Long Range Barrel Extension
8,95 €
NERF N-Strike Elite Modulus
Barrel Extension Silencer
8,95 €
NERF N-Strike Elite Modulus
2-in-1 Dartblaster and Shoulder Stock
11,95 €
NERF N-Strike Elite Modulus
Dartblaster Shield
8,95 €
NERF N-Strike Elite Modulus
Barrel Extension Chrono Barrel
29,95 €
NERF N-Strike Elite Modulus
Long Range Kit for Modulus
24,95 €
NERF N-Strike Elite Modulus
Barrel extension Mega-Dartblaster
14,95 €
NERF N-Strike Elite Modulus
Barrel Extension Recon MK II
9,95 €
NERF N-Strike Elite Modulus
Dartblaster Recon MKII
39,95 €
NERF N-Strike Elite Modulus
Dartblaster Recon MKII Basis-Blaster
18,95 €
NERF N-Strike Elite Modulus
Dartblaster Barrelstrike
19,95 €
-27%
NERF N-Strike Elite Modulus
Dartblaster BattleScout with Camera
54,95 €
74,95 €
NERF N-Strike Elite Modulus
Sights with built in LED and reflecting Targets
19,95 €
back to top