NERF - N-Strike Elite Modulus Distance Scope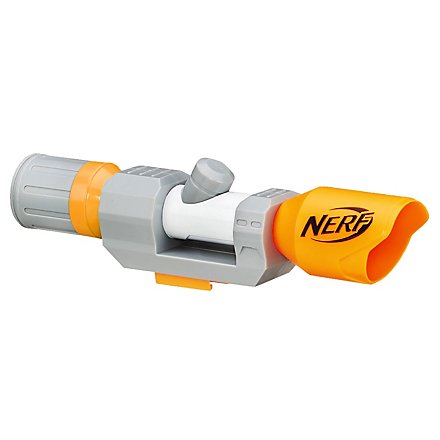 The Modulus scope now in an environment-friendly packaging.
The scope of the Long Range Kit now available separately
Gives your blaster the right look for shots from a distance
Compatible with all Nerf blasters with accessory rail
Approximately 24cm long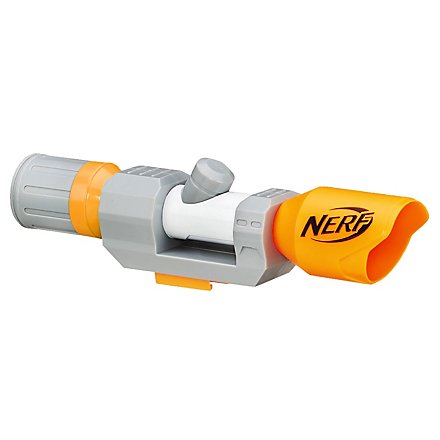 Product Information
Popular Nerf accessory
The Nerf Modulus Distance Scope is a popular accessory that was only available in the Range Kit or in camo-optics. Now the original is available separately from us.
Compatible with all blasters with accessory rail
The Nerf Modulus riflescope can be mounted on all Nerf blasters with appropriate Tactical Rail. We recommend the installation of large blasters, because the scope but is quite large.
Brand new in sustainable box
The riflescope is packed in a simple cardboard box. But do not worry, quality does not change compared to the scope in the Long Range Set. To offer you this accessory as affordable as possible and to protect the environment, the product comes in an environmentally friendly recycling box.
Product details
560235
NERF N-Strike Elite Modulus
Hasbro
Nerf N-Strike Elite XD Modulus rifle scope in Recycling packaging
Warning: Not suitable for children under the age of three. Warning: Do not aim at eyes or face. To avoid injury: Only use original darts. Other darts may not meet safety standards. Do not modify darts or dart blaster.
More from NERF N-Strike Elite Modulus
NERF N-Strike Elite Modulus
Banana Clip 10 Darts
11,95 €
NERF N-Strike Elite Modulus
Shoulder Stock matching Dartblaster Mediator
24,95 €
NERF N-Strike Elite Modulus
Red Dot matching for Modulus
14,95 €
NERF N-Strike Elite Modulus
Barrel extension Dartblaster
19,95 €
-20%
NERF N-Strike Elite Modulus
6 Darts Clips
7,95 €
9,95 €
NERF N-Strike Elite Modulus
Dual-Rail Barrel Extension
8,95 €
-25%
NERF N-Strike Elite Modulus
Flip Clip Kit for Modulus
14,95 €
19,95 €
NERF N-Strike Elite Modulus
Shoulder stock with art storage
11,95 €
-20%
NERF N-Strike Elite Modulus
Flip Clip Kit for Modulus
19,95 €
24,95 €
NERF N-Strike Elite Modulus
Folding Bi-Pod
9,95 €
NERF N-Strike Elite Modulus
Stealth Kit for Modulus
19,95 €
NERF N-Strike Elite Modulus
Long Range Barrel Extension
8,95 €
-33%
NERF N-Strike Elite Modulus
2-in-1 Dartblaster and Shoulder Stock
7,95 €
11,95 €
NERF N-Strike Elite Modulus
Barrel Extension Silencer
8,95 €
-11%
NERF N-Strike Elite Modulus
Dartblaster Shield
7,95 €
8,95 €
-33%
NERF N-Strike Elite Modulus
Barrel extension Mega-Dartblaster
9,95 €
14,95 €
NERF N-Strike Elite Modulus
Dartblaster Modulus ECS-10
79,95 €
-20%
NERF N-Strike Elite Modulus
Barrel Extension Recon MK II
7,95 €
9,95 €
NERF N-Strike Elite Modulus
Dartblaster Modulus Mediator
29,95 €
NERF N-Strike Elite Modulus
Long Range Kit for Modulus
24,95 €
back to top