NERF - N-Strike Elite AccuStrike 24 Dart Refill Pack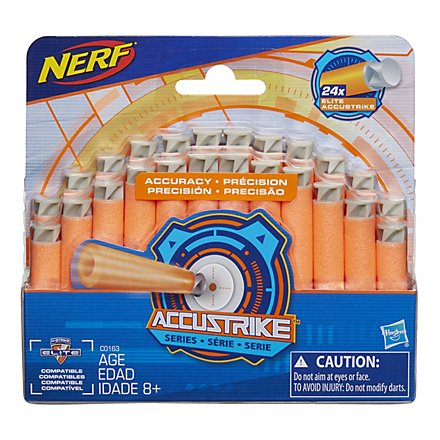 Highest precision thanks to innovative dart head design: 24 AccuStrike darts in the refill pack!
24 Nerf AccuStrike replacement parts in a refill pack
The special dart head makes the darts extremely accurate
Suitable from 8 years
Attention!: Accustrike darts are not compatible with blasters from other manufacturers.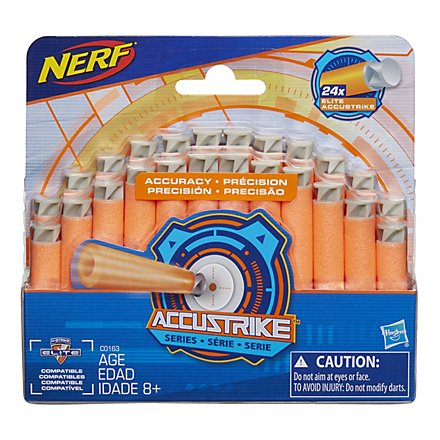 Product Information
Accurate darts thanks to Nerf AccuStrike
Conventional Nerf darts often suffer from the phenomenon known as "fishtailing". This refers to the unstable trajectory of Nerf darts, which start to tumble in flight and spontaneously change the flight path. With the darts of the Nerf N-Strike Elite AccuStrike series, this problem is a thing of the past.
The specially shaped heads with their propeller-like slats ensure that the flight path remains stable. So the dart lands where it was planned. Apart from external factors such as wind or dart condition, targeted hits are no longer a question of chance, but a question of aiming and a calm hand..
Precision x 24
This refill kit contains 24 AccuStrike darts. A neat supply, if one needs several attempts to hit a target. Or if there are simply very many targets...
Product details
560202
NERF AccuStrike
Dart Ammo
PVC
Hasbro
Attention! Not suitable for children age 3 or younger. Attention! Do not aim at eyes or face.
To avoid injury: Only use original darts. Other darts may not meet safety standards. Do not modify darts or dart blaster. Shot distances are estimates and are based on test data. Actual blaster results will vary and depend on the condition of the darts and other factors.
More from NERF AccuStrike
back to top