Molotow - Premium Spray Paint 400ml - 165 Dark Green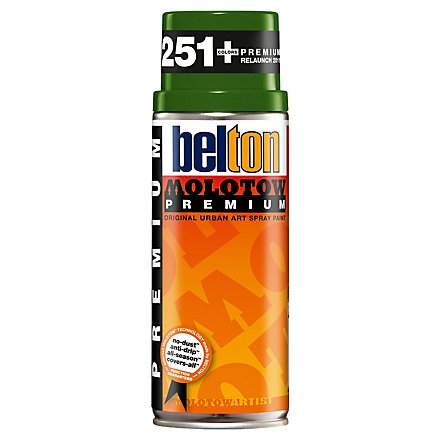 High quality spray paint from Molotow: does not only work for graffiti, but also for blaster art!
High-quality graffiti spray paint
Suitable for painting dart blaster
Content: 400ml
Odorless and better coverage than cheap spray cans
Made in Germany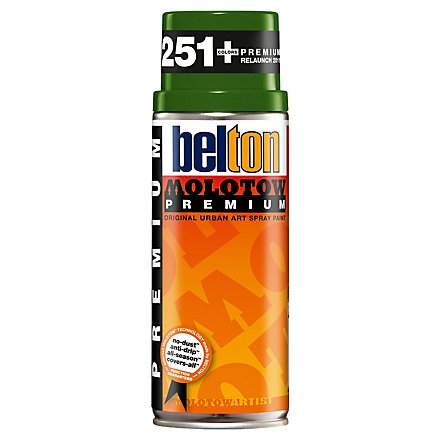 Product Information
Molotow Premium brings colour into life and on the Blaster
Performance tuning is one thing, but the gem should also be spiced up from the outside. Futuristic and brightly coloured for blaster wars, or rather covered for the next LARP event: there are actually no limits to creativity in optical modding.
In order to adapt the colours of Blaster to your own ideas, we offer a wide range of spray colours from Molotow.
Blaster art out of the can
The 400ml Molotow Premium spray cans are available in a whole range of different colours. All have the special Flowmaster™ spray valve, which allows clean paint application.
The Molotow Premium colours are Made in Germay quality, with good opacity, colour brilliance and product safety in mind. Molotow Premium Paints are ISO 9001 certified and REACH compliant and significantly less aggressive than cheap spray cans. Nevertheless, suitable protective clothing should be worn and good ventilation provided.
Painting tips
The first rule of the Blaster Painting Club is to sand. The second rule of the Blaster Painting Club is: sanding. Paint can adhere much better to a roughened and then cleaned surface. In order to increase the adhesion, a special primer can be applied before the actual layer of paint and finally a clear coat for sealing. We also offer primer and clear coat in our shop.
Whether or not Blaster should be disassembled before painting is the subject of numerous discussions. It is clear that all parts can be reached much better and the result is better. Since a optical mod is often preceded by a performance tuning, disassembling and assembling is usually a must anyway.
If you decide to paint your Blaster without disassembling it, you should at least remove moving parts like pump handles and carriages to reach the surfaces underneath. The barrels should also be sealed so that no spray paint can get into them. In front loaders in particular, it is otherwise possible for important parts to stick together inside.
A final tip for use: A lively paint finish can be achieved by first spraying the Blaster in one colour, then masking certain parts of the case with masking tape and newspaper (make sure that the masking tape is tightly adhered so that no paint can underrun) and then designing the other parts with a second colour. But you should take care not to spray the paint too thickly, otherwise many details may get lost.
Product details
14 years and older. Warning: This product is not a toy. Keep out of children's reach. This product can not be send by air freight. Therefore it is not suitable for express delivery or to be delivered outside of Europe.
More from Molotow Colors
Molotow Colors
Spray Paint 221 Dark Black (400ml)
6,95 €
Molotow Colors
Matte Varnish (400ml)
6,95 €
Molotow Colors
Spray Paint 220 Silver-Dollar (400ml)
6,95 €
Molotow Colors
Spray Paint 173 Evil Olivee (400ml)
6,95 €
Molotow Colors
Spray Paint 172 Camouflage (400ml)
6,95 €
Molotow Colors
Primer White (400ml)
6,95 €
Molotow Colors
Spray Paint 225 Granit (400ml)
6,95 €
Molotow Colors
Spray Paint 214 Black (400ml)
6,95 €
Molotow Colors
Spray Paint 171 Amazonas (400ml)
6,95 €
Molotow Colors
Spray Paint 003 Yellow (400ml)
6,95 €
Molotow Colors
Spray Paint 170 P.JAY Green (400ml)
6,95 €
Molotow Colors
Spray Paint 164 Light Green (400ml)
6,95 €
NEW
Molotow Colors
Marker 1mm Gloss Liquid Chrome
9,95 €
NEW
Molotow Colors
Marker 2mm Gloss Liquid Chrome
9,95 €
NEW
Molotow Colors
Marker 4mm Gloss Liquid Chrome
9,95 €
NEW
Molotow Colors
Marker Set aus 1mm, 2mm und 4mm Liquid Chrom Stiften
24,95 €
back to top