BuzzBee - Ultra-Tek 20 Dart Magazine incl. 24 Darts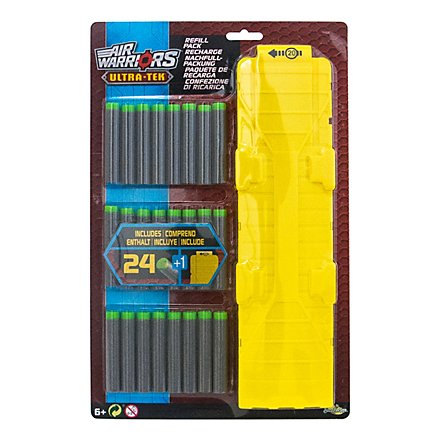 With this 20-dart magazine BuzzBee goes big.
Fits all BuzzBee blaster with magazine
Faster reloading thanks to additional magazines
Fits in Blasterparts Dump Pouches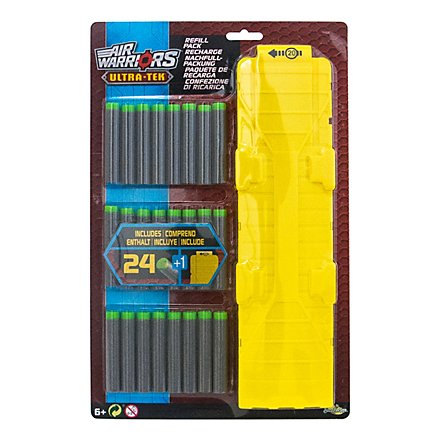 Product Information
This magazine with a 20-dart-capacity is a real tactical advance
A 20-round-burst before having to grab a new clip? This is no longer just a dream for Blaster-Slingers. BuzzBee's Ultra Tek series hit the dartblaster world like a thunderbolt. Beside its great price-performance ratio, the fact that the darts as well as the clip itself is compatible to blasters of other big brands might be an explanation for the great success of the BuzzBee Ultra-Tek range.
Tons of quality darts
The BuzzBee Ultra-Tek darts shine out thanks to their exceptional quality, perfect flight characteristics and compatibility. They are durable and withstand multiple usage with ease. Thanks to the comparatively high weight of their tips they do not achieve the same shooting distances as Nerf Darts but have the straighter trajectory and thus allow aiming even on farer targets.
Product details
560333
BuzzBee Air Warriors
Dart Ammo
BuzzBee
20-Dart-Magazine, 24 BuzzBee Ultra-Tek Darts
More from BuzzBee Air Warriors
BuzzBee Air Warriors
Dartblaster Master Tek
26,95 €
BuzzBee Air Warriors
Dartblaster Tek 8
12,95 €
BuzzBee Air Warriors
Refill Pack 16 Suction Darts
2,95 €
BuzzBee Air Warriors
Dartblaster Power Mech with drum
32,95 €
-11%
BuzzBee Air Warriors
Dartblaster Sidewinder
24,95 €
27,95 €
Air Warriors Long Distance
BuzzBee - Air Warriors Long Distance 50 Dart Refill Pack
14,95 €
BuzzBee Air Warriors
Air Warriors Eradicator
24,95 €
Air Warriors Precise Pro
Air Warriors PrecisePro Stryker Force
14,99 €
Air Warriors Precise Pro
Air Warriors PrecisePro Thermal Hunter
39,95 €
BuzzBee Air Warriors
Dartblaster Auto Tek
29,95 €
BuzzBee Air Warriors
Refill Pack 20 Darts Ultra-Tek
7,95 €
-13%
Air Warriors Precise Pro
Dartblaster Mutator with magazines and different darts
34,95 €
39,95 €
The Walking Dead
Carls Revolver BuzzBee
12,95 €
back to top