Blasterparts One Point Sling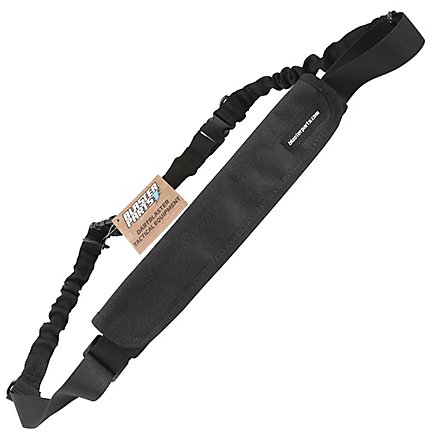 Bungee strap with strong snapping hooks and comfortable shoulder pad so you can take even the biggest blaster into battle.
Secure hold
easy to install
Suitable for many different blaster types
Comfort through bungee rubber suspension and shoulder piece
Snap hooks are covered with an elastic waistband made of fabric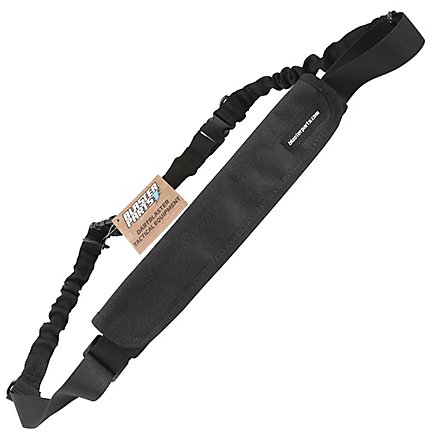 Product Information
Multi Blaster mode
Most players carry more than one dart blaster into the blasterwar. Especially popular are combinations of a big main blaster and a small sidearm. To avoid having to put the big blaster away or even drop it on the ground when changing, a carrying strap is useful. This way the Blaster can be released without hesitation, as it then hangs securely on the strap within easy reach on your side. In addition, a Blaster carried in this way looks quite cool
.
Detail rich strap
The strap consists of an adjustable loop with a maximum length of up to 1.70 meters. Each 20cm of the ends are cushioned with a strong rubber cord. Attached to it is a piece of belt with a snap hook at the end, which is hooked into the corresponding ring on the Blaster.The snap hook is also covered with a rubber band made of fabric to avoid annoying clattering on the blaster while walking or running.
Product details
561064
Blasterparts
Blasterparts

Blasterparts Shouldersling
Age recommendation: From 14 years.
Attention! This product is not a toy. Attention! Not suitable for children age 3 or younger. Attention! Choking hazard ? small parts.
back to top