Blasterparts - Modification Spring for X-Shot Regenerator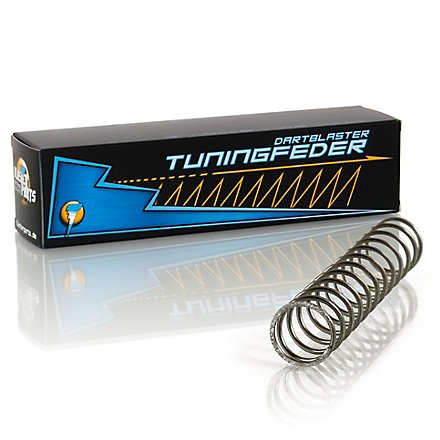 This tuning spring will extend your X-Shot Regenerator's range significantly.
Equivalent mass of the spring: approx. 6kg
Increases range and muzzle velocity
Difficulty of installation: easy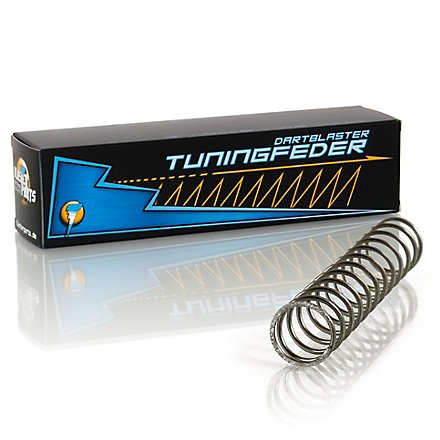 Product Information
Instructions for Tuning
Our tuning springs come with detailed instructions explaining how to install the spring into the Blaster step by step. The degree of difficulty given is a guideline. Difficult installations should rather be made by experienced tuners. The easy ones can also be done by beginners.
Simple step to a dramatic increase in performance
The installation of a tuning spring is a relatively simple step to noticeably increase the range and muzzle velocity.In most cases you do not need any technical knowledge. Just a little bit of craftsmanship and you have already added more power to your blaster.
Important notice!
The new edition of the Blaster has 4 fins/veins on the plunger head that make it difficult or impossible to insert the tuning spring. Simply file off these veins or cut them off with a cutter knife, then the spring will fit again as usual.
Product details
561021
Blasterparts
Blasterparts

Tuning Spring, Instructions
Attention! This product is not a toy. Keep out of children?s reach.
This product is not a product of the manufacturer or importer of the dart blaster designated as compatible. Modifying and changing a blaster with the components offered here is at your own risk and may lead to increased wear and tear on other components.
Rate the product
Blasterparts - Modification Spring for X-Shot Regenerator
Managed to fit it but ad to modify the blaster spring holder slightly which given it's stated to be for the regenerator specifically was a bit surprising/ disappointing. Does give it lots more power without it being dangerous or painful though!

Edward - 15.04.2022
very easy to fit, however, the picture vs the reality of the amount of coils is a lot less. Noticeable difference in power. Will be modding my other X-shots now.

Elroy - 01.11.2021
I have not installed it yet, but currently going to give you the benefit of the doubt

Daniel - 19.01.2021
back to top