Blasterparts - Modification Kit for Nerf N-Strike Barricade Rev-10 (Voltage Mod)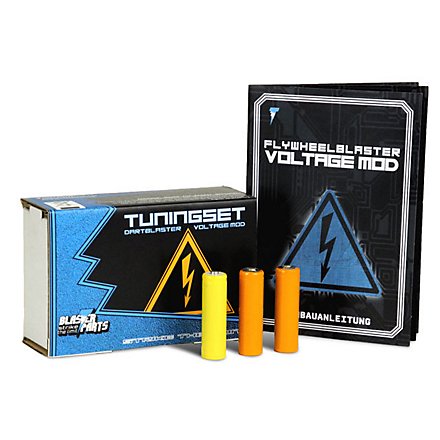 Modification Kit for NERF Barricade (Voltage Mod);containing rechargeable batteries and dummy-batteries.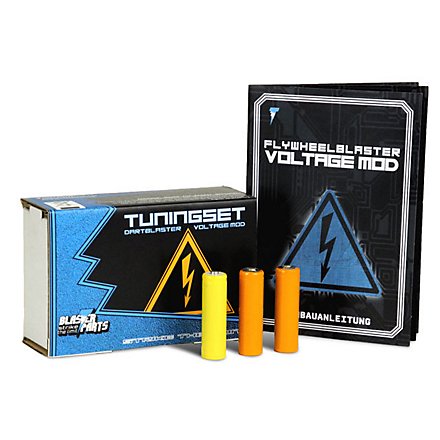 Product Information
The kit includes 3 unprotected Li-Ion cells and one dummy-battery. This set can simply be used in your blaster by changing the batteries. It raises the Voltage from 6V to 11,1V. This speeds up the Flywheels, which in turn accelerates the darts to higher speeds and higher ranges.
Note: Our modification products are no toys. Not suitable for children! The installation of the mod kit causes a significant increase in performance. When playing with other people appropriate eye-protection-goggles should be worn as a precaution. Do not aim at face or eyes of other people.
The offered modification kits are NOT products of the manufacturer of the mentioned blaster. There is no relationship to the manufacturer of the mentioned brand.
This mod kit includes rechargeable lithium-ion batteries (Li-ion). Li-Ion batteries must be charged with a suitable charger that is specifically approved for charging Li-Ion batteries. A normal charger or AC adapter is not suitable for charging Li-Ion batteries! Using a charger suitable for different kinds of battery types make sure it is NOT set to NiCd or NiMH
Product details
560678
Blasterparts
Blasterparts
2 x Li-Ion Battery unprotected AA 3,7V, 1 x Dummy AA, 1 x Manual
14 Years and older. Warning: This product is not a toy. This produkt is neither affilitaed, nor endorsed or produced by the manufacturer, importer or distributor of named blaster toy. Modifying your blaster in any way happens at own risk and may cause higher wear to certain parts.
More from Blasterparts
Blasterparts
Precision Flywheels
11,95 €
Blasterparts
Modification Spring for Dartblaster Disruptor
8,95 €
Blasterparts
Modification Kit (Voltage Mod) for Dartblaster Stryfe
24,95 €
Blasterparts
Modification Kit Full Metal for Dartblaster Hammershot
18,95 €
-7%
Blasterparts
Banana-Clip for 15 Darts
12,95 €
13,95 €
Blasterparts
Modification Kit with Voltage-Mod for Dartblaster Rapidstrike
32,95 €
Blasterparts
Tuning-Motor-Set for Nerf-Blasters
17,95 €
Blasterparts
Modification Spring for Dartblaster Longshot CS-6
8,95 €
Blasterparts
Modification Spring for Dartblaster AccuStrike and RaptorStrike
8,95 €
Blasterparts
Modification Spring for Dartblaster AccuStrike and AlphaHawk
8,95 €
Blasterparts
Multiholster SX black
19,95 €
Blasterparts
Screwdriver PH1 for Nerf-Screws
3,95 €
-10%
Blasterparts
Multiholster MX black
from 17,95 €
19,95 €
Blasterparts
Modification Spring for Dartblaster Sledgefire
8,95 €
Blasterparts
Powershell for Dartblaster Sledgefire
17,95 €
Blasterparts
Catch-Spring for Nerf-Dartblaster
2,95 €
Blasterparts
Heavy Modder Pack: 6 Precision Flywheels
28,95 €
Blasterparts
Replacement Screws for Nerf Blaster 10mm 80 pcs
7,95 €
Blasterparts
Modification Kit Hard Range for Dartblaster Retaliator
16,95 €
Blasterparts
Modification Spring for Dartblaster Strongarm
8,95 €
back to top