Blasterparts Gift Voucher 25,- €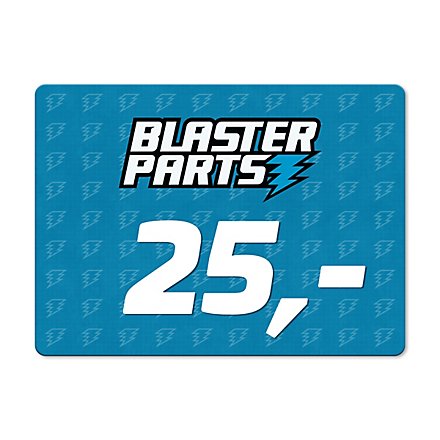 The Perfect Gift: The Blasterparts Gift Voucher
as digital voucher immediately available
li>unlimited valid
online and by telephone buyable and redeemable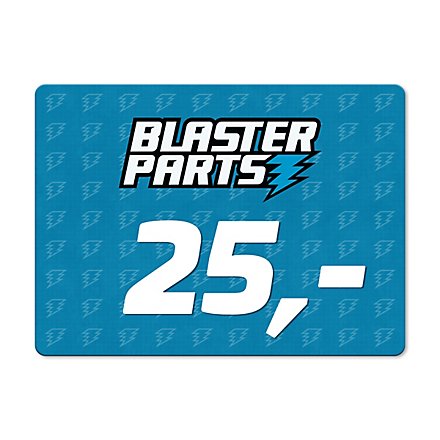 Product Information
A 100% hit!
The Blasterparts gift voucher worth 25,- Euro is the ideal gift for any occasion, because it can be redeemed for exactly what the recipient likes best and is also valid indefinitely.
The Blasterparts gift voucher can be redeemed online or by phone. If you order the voucher online, we will send you the voucher with voucher code as a PDF document by e-mail no later than the next working day. If you want it even faster, then order by phone at our service and order hotline +49(0)30 - 400 446 30 (Mon-Fri 9am-7pm).
Our gift vouchers are also available in the value of 50,- , 75,- and 100,- Euro.
Product details
560737
Blasterparts
100% digital

a PDF by email with a code worth 25,- €
More from Blasterparts
Blasterparts
Modding Kit M4A1, black
24,95 €
Blasterparts
30 Darts Drum Magazine
22,95 €
Blasterparts
Precision Flywheels
14,95 €
Blasterparts
Tuning-Motor-Set for Nerf-Blasters
19,95 €
Blasterparts
Modding Kit MP5, black
19,95 €
-7%
Blasterparts
Banana-Clip for 15 Darts
12,95 €
13,95 €
Blasterparts
Modification Kit (Voltage Mod) for Dartblaster Stryfe
24,95 €
Blasterparts
Modding Kit AK47, black
24,95 €
Blasterparts
12 Dart Banana Magazine, black
9,95 €
Blasterparts
Screwdriver PH1 for Nerf-Screws
4,95 €
Blasterparts
Modification Spring for Dartblaster Disruptor
8,95 €
Blasterparts
Modification Spring for Dartblaster Longshot CS-6
8,95 €
Blasterparts
SMG stock for Nerf mounts, black
9,95 €
Blasterparts
Multiholster SX black
19,95 €
Blasterparts
Modification Kit Full Metal for Dartblaster Hammershot
18,95 €
Blasterparts
Modification Spring for Dartblaster Strongarm
8,95 €
Blasterparts
Modification Spring for Dartblaster AccuStrike AlphaHawk
8,95 €
Blasterparts
Modification Spring for dartblaster X-Shot Regenerator
8,95 €
Blasterparts
Multiholster MX black
19,95 €
Blasterparts
Modification Kit Gunmetal for Dartblaster Hammershot
18,95 €
back to top